"We decided to go in a different direction this year for our Upward Award's Night and not have the traditional ball handler or illusionist but to bring in an artist that could do something different, was age appropriate, and could share the gospel in a way that the audience regardless of age could grasp and apply to their life. Peter Nestler delivered on all counts!"
Doug Hill | Director of Christian Activities | Calvary Baptist | Winston-Salem, NC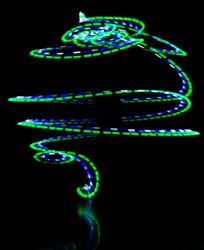 Jump ropes, glow ropes, unicycles, audience participation and a very straight forward gospel presentation. This is what füsed is all about. Our program is designed to engage the entire family in a memorable and exciting way. Peter has performed for thousands of families at Upward events in churches both small and large all over the United States.
We just had Peter for our Upward closing and it was a great show! He was extremely entertaining. Of the 6 years that we have been doing this, definitely was the most engaging and most exciting entertainer that we've had, we loved having him! "
Aaron Kohler | Upward Director | Grace Bible Church | Minooka, IL
"His performance was captivating, exciting and entertaining, not only for the Upward kids, but for the parents in attendance as well. The manner in which he presented the Gospel was awesome…easy to understand and engaging. This was our 4th Upward season, and several parents commented after the show that they liked Peter more than any other entertainer we'd had in the past."
Jason Meinershagen | Upward Director | First Baptist Church | Wentzville, MO
Now we could focus on the stats: Peter Nestler has won 7 World Championships as a competitive rope skipper, has 5 Guinness World Records and has over 25 years of performance experience in 18 countries, but the fact is, we want to partner with you to win your community to Christ. This is what we're all about…a creative, engaging program that people can enjoy, but use that platform to introduce them to Jesus. Contact us to discuss how our program can complement your vision.

"The show was phenomenal but even more importantly the message was spot on from what we wanted. He talked about what it means to become a champion for God and what the most important thing is and that is that you have a relationship with God and with Jesus Christ."
Chris Bailey | Pastor | Liberty Church | Broken Arrow, OK
"He not only was an incredibly talented performer, keeping everyone's attention from youngest to oldest, but also gave a clear, concise gospel presentation that spoke to the reality of what salvation means in accordance with scripture. Peter was easy to work with, willing to be flexible, and a joy to be around."
Vicky Fleck | Upward Director | Greece Assembly of God | Rochester, NY
He presented the Gospel to the audience in a compelling visual manner for the children, yet he still read from Scripture in a way that spoke to the adults in the room. It's difficult to bridge such a wide age range, but Peter Nestler did just that. Both the children and the adults were still talking about his performance for days!
David Ericson | Youth Pastor | First Baptist Church | Artesia, NM
Peter's intense tour schedule fills up very quickly each year, don't miss the opportunity to bring him in for your Upward Celebration! Contact us today for more information.
Peter has been performing for 25 years and has traveled around the world showcasing what can be done when one submits their talents to the Lord. Peter has been ministering at Upward events since 2003 and is on the speakers list with Upward™ Unlimited.